Rated for use in residential, commercial and industrial environments, 100% acrylic solid-surface countertops in Oroville, Oregon City, Palermo, Bangor, or Butte County, CA are a smart investment. And, when you're working with Kleins Cabinet and Countertops, they're an investment in quality that can be completely customized to meet your needs. Every one of our solid-surface countertops is made to order, custom-designed for your specific application.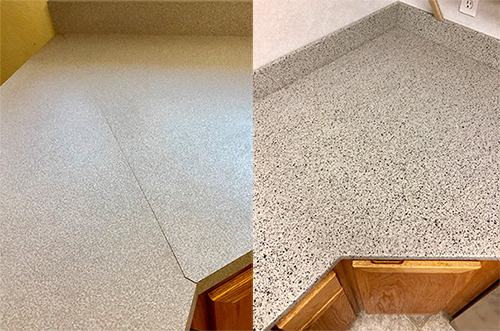 Before / After
Complete Custom Countertops
Whether you're upgrading your kitchen countertops, adding a new addition to your commercial facilities or you need a custom solution for your industrial space, trust our team for completely custom countertops in Oroville, CA.
No matter the size, shape, color or features, we consult with you at length to make sure we're furnishing you with a solution that's undeniably one-of-a-kind. With hundreds of colors to choose from and the capabilities to perform custom edgework and shaping, there's not much we can't do when it comes to producing unique countertop solutions.
The Benefits of Acrylic Countertops
There are a great many reasons to choose acrylic solid-surface countertops for your home or business. The beauty and longevity of this material alone is enough to make it a worthwhile investment! Some of its other advantages include:
Nonporous structure that's resistant to staining
Numerous different edge finishes, colors and styles
Resistant to bacterial growth and germs
Easy to clean
Easy to repair scrapes, scratches and other blemishes
With all of these benefits in your space, it's easy to see why so many people opt for acrylic countertops when they want to make a long-term investment in quality!
Design the Ideal Countertops Today
If you're in search of new custom countertops for new construction, renovation or a custom project, contact Kleins Cabinet and Countertops today. We'll consult with you at length about your needs and introduce you to solid-surface countertop options that are sure to look stunning and function perfectly in their application. Contact our team for countertops or custom cabinetry today by calling 530-533-6310.