We provide ALL redesign services in house,
and at no extra expense!
Cabinet Maker in Oroville, CA
Kleins Cabinet and Countertops specializes in designing, creating and installing luxury custom cabinets, working with a range of fine woods to create beautiful products for customers. In addition, we're your destination for solid-surface countertops for residential, commercial and industrial applications. Our cabinet makers and countertop contractors operate on pillars of quality, excellence and timeliness, ensuring you always get the best value when choosing us.
Beautiful Cabinets, Tailored to Your Home
Cabinets and countertops are the face of our interiors. From the bathroom to the kitchen, the basement to the workshop, cabinets and countertops are tasked with making our spaces beautiful, versatile and accommodating. But every space is different and demands a unique solution, which is why Kleins Cabinet and Countertops specializes in customizing cabinet and countertops solutions of all types. As a top cabinet maker in Oroville, CA, we make sure every product is made to spec, based solely on the needs of our customers. We provide comprehensive design consultation—including 3D CAD renderings of your designs—then utilize only the finest woods and expert-level craftsmanship to bring them to life. Our cabinetry is truly one-of-a-kind!
When it comes to countertops, we provide only the finest in 100% acrylic countertops. Whether you're a homeowner, business manager or you operate in an industrial space, we'll have a countertop contractor in Oroville, Oregon City, Palermo, Bangor, or Butte County, CA consult with you about your design demands. Our bathroom and kitchen cabinet shop is able to tailor solutions that fit your needs across all types of jobs, including new construction, remodeling and any customized applications. Nothing we offer is ever prefabricated or off-the-shelf! It's all made specifically for you and installed perfectly by our team, to leave a lasting mark of exceptionalism in your home or business.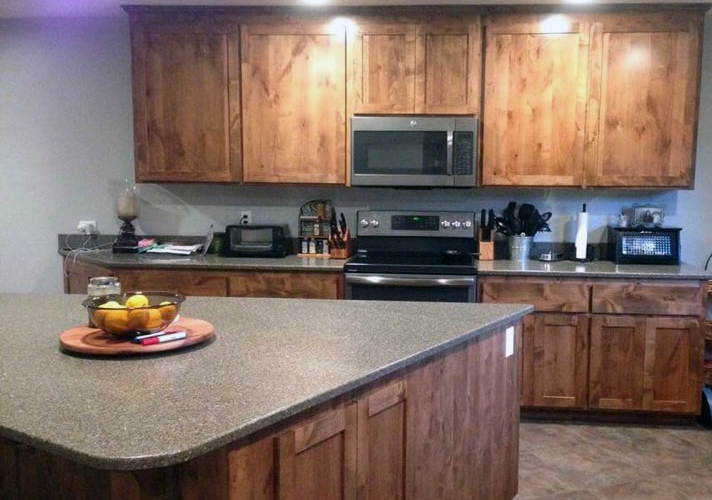 All of our products are custom made to order, based specifically on the needs of our customers. We've specialized in custom cabinets and countertops established in 1982, giving us extensive capabilities across a wide number of materials and styles.

All of our bathroom and kitchen cabinet shop offerings are made locally in Butte County, CA by licensed and bonded workers.

Our cabinetry and countertops can be customized for any area of your home, including kitchens, bathrooms, workspaces, garages, basements and more!

We always work to deliver a high-caliber product quickly and for a reasonable cost, ensuring our customers get total value at all times.
Customize Your Cabinets
When you demand the finest in custom cabinetry and countertops, Kleins is ready to deliver! Contact our cabinet makers and countertop contractors today to learn more about our completely customizable options.
A proud bathroom and kitchen cabinet shop serving the residents of:
Oroville, CA
Chico, CA
Paradise, CA
Magalia, CA
Gridley, CA
Biggs, CA
Yuba City, CA
Butte County, CA
& the surrounding areas.